How long have I been gone for ?
It's only been about 4 months, but it felt like an eternity. I didn't say anything, but I had planned to quit WordPress. It changed quite a lot as expected.
The reason I stopped blogging was because I was neglecting my studies (actually, the main problem was my inability to manage my time), and because I was getting bored. K-pop was also one of the reasons why my grades went down *I still did well despite my laziness*.
I stopped listening to K-pop since a few weeks. I thought I'd never make it, but it wasn't as bad as I thought.
I'm sad to say that I Jimout, so I'll change my blog's theme. Sorry ARMYs, I failed you.
A lot of things happened while I was gone, so I can't post them all.
---
A month ago, I went to a 3 day spring survival with air cadets. The first day, my group and I made our tents and went to find wood for hours. In the afternoon, my whole squadron and I walked 1 hour and 30 minutes to find a place to eat !? To get there, we had to cross a small river with our clothes. Since I'm small, the water reached my thighs. It was freezing cold, and there were rocks underneath (it was painful!). Once we got to our destination, we ate, and finally walked back to our respective "camping" sites (mine was 30 minutes away from the main camp). Once my group and I were in our camping site, we worked and finally slept at 2 : 30 AM. One hour later, two of my friends and I had to wake up to watch the fire. I was basically dead. DUDE I HAVE NO FRICKING ENERGY TO KEEP A FIRE AT 3: 30 AM.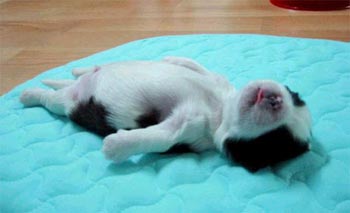 Next day, we went fishing with our hands. Once we caught the fish, since we had to respect it (I absolutely agree), we broke its neck. There was a lot of blood, and I was shaking before I killed my fish. 😦 I ate it.
This time, I watched the fire with one friend 2 hours after falling asleep for 1 hour and 40 minutes. It started to rain, my clothes were soaked. Worst night ever.
Moving on, next day, we had to sort out all the materials (including the tents, the ground sheets…), and put them in the truck. It took a few hours. -.-
After that, there were 80 dead fishes to clean, so I volunteered to help even if I didn't really want to. It was really disturbing. We were about 60, but only 7 people (2 girls including me) decided to do it. About 5 guys washed the fishes after the seven of us broke their necks and took out what was inside them. I got used to do that after 4 fishes. Our hands were very bloody.
When we came back, we gave away the fishes to parents of our squadron's cadets.
---
Lastly, I also did an activity last Sunday with air cadets. It was the last one for this year. We did a lot of things, but I have to say that the most memorable experience I had was swimming in the mud. Literally. We had to do 200 meters there, but only a few of us walked past 3 meters (it was the "point of no return"). Basically, we just went inside the muddy water with our clothes on. It was cold asf. At first, I had difficulty breathing. The water reached my chin. Everyone kept encouraging each other. 😀 At the end, this is pretty much how we looked (the picture shows the place where I went, but it's not me) :
My hair had a strange texture.
---
To finish this post, I'd like to say my new interests nobody cares. I think special forces are super awesome. I'll make posts about them in the future.
I also started learning German. If any of you know how to speak the language, please learn me some sentences. 🙂
Hikari